Never Underestimate the Power of Curb Appeal When Selling a Home
"It's what's inside that counts" is great advice. But when it comes to selling a home, it's forgetting something important—curb appeal. A house might be absolutely gorgeous, but if it looks bad from the street, it could be hard to get people interested. A pleasing exterior can determine whether someone stops in to an open house or contacts the realtor, or drives right past.
But curb appeal is more than a good first impression for potential buyers. If you know how to add curb appeal, you can ask more for your house, and get it! 
A study in the Journal of Real Estate Finance and Economics estimates that curb appeal accounts for up to 7% of a home's sales price. And landscaping alone can increase the perceived value of a house by roughly 12% according to a report published by Virginia Tech.
Luckily, figuring out how to increase curb appeal does not have to be difficult. And for those on a tight budget, it doesn't have to be expensive either. Here are some things that can make a big difference:
Start With a Clean Space
Just as cleaning and decluttering the inside of a house is essential, so is sprucing up outside areas. Start with simple things. 
Sweep the steps and walkways. 

Knock down cobwebs from the entryway and exterior lights. 

Remove dead leaves and twigs from the yard. 

Washing the windows will make the view sparkle from both inside and out. 

Consider power-washing not only the house, but the driveway too.
Improve the Exterior Facade
Structural aspects at the front of a home can often make a big difference in curb appeal, but are usually the most expensive to fix. On the plus side, they can also become selling points allowing a seller to up the asking price. Unless selling the house as-is, it might be worthwhile to consider replacing or repairing the roof, siding, or windows. A new fence, garage door, tuckpointing a brick home, or repaving the driveway can also enhance curb appeal. 
For a more affordable improvement, consider painting a frame home, or painting the trim on one with brick or siding. Painting or replacing shutters or window boxes will spruce things up too.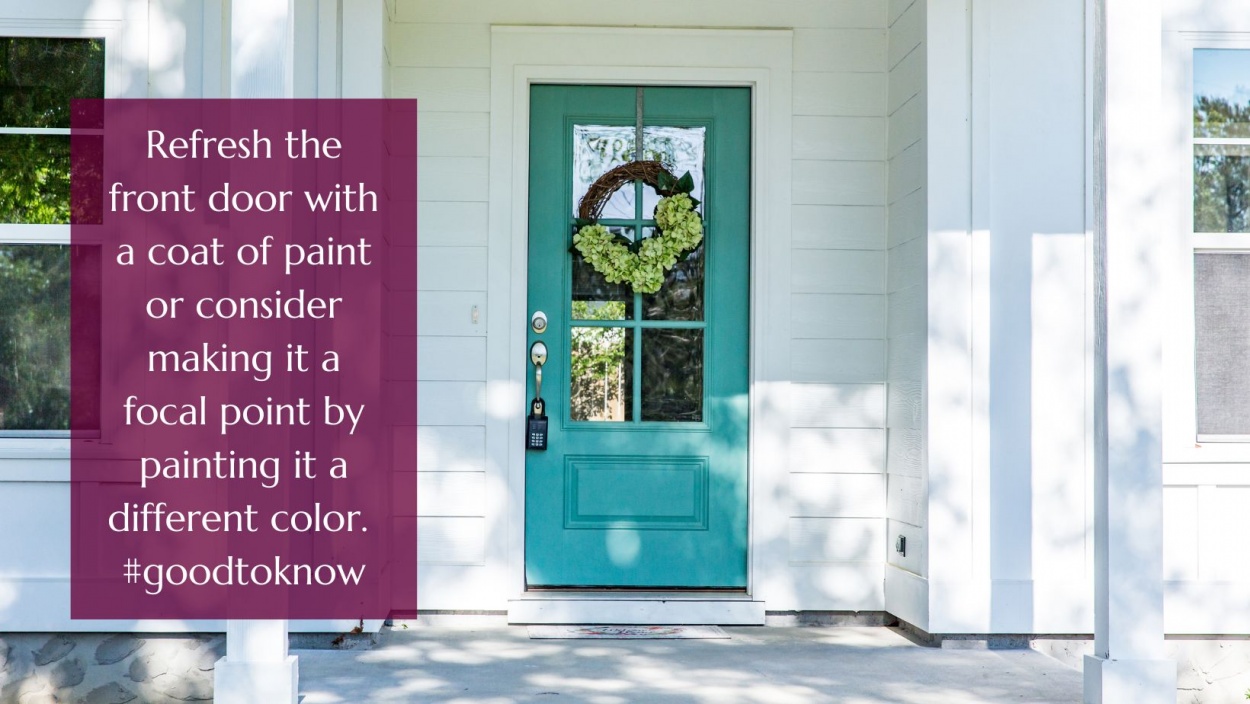 Enhance the Landscaping
When a house is on the market, it's important to keep the lawn mowed and weeds under control at all times. It's also time to get rid of dead or unhealthy trees and bushes that will make the property look unkempt. There is also a difference between a tree that offers welcome shade, and one that is overgrown and obstructs the view of the house. 
Unless it is a total mess, improving the landscaping does not have to mean ripping everything out and completely redesigning the space. Planting some flowers or bushes, or buying blooming planters from the local garden center is usually enough. If the budget allows, adding mulch or rock can refresh decorative areas around plants.
If the landscape includes decorative elements, make sure they are clean and in good shape. Pavestone edging, retaining walls, water features, and fountains, can all help curb appeal, as long as they are not overgrown with weeds, falling down, loose, or broken.
Make the Entryway Inviting
Aside from the overall impression from the street, the condition of the front door and entryway is most important. A lot can be done here for a small investment. And most homeowners will be able to do these things themselves.
Refresh the front door with a coat of paint or consider making it a focal point by painting it a different color. For example, go from white to glossy black or bold red to give the house a whole new look. 

Think about painting the mailbox and shutters the same shade to create a seamless look.

If the doorknob or handle is worn or dull, replace it. Perhaps add a decorative door knocker, kickplate, and house number in brass or brushed nickel to match. 

Put out a fresh welcome mat, a potted plant, and maybe a comfortable rocker. 
Create a space that potential buyers can envision coming home to each day.
Add Some Strategic Lighting
Good lighting serves the dual purpose of security and aesthetics. Make sure the front porch and walkways are well-lit. Outdoor light fixtures can be replaced without spending too much. And inexpensive solar stake lights can be both decorative and functional.
Use small spotlights or uplighting to highlight the house or landscape features. It will increase curb appeal on gloomy days or if a potential buyer drives by after dark.
Conceal Eyesores
Unfortunately, the view of a house might be marred by something that is not in the homeowner's control. Utility boxes, power lines and poles, or the air conditioning unit can be visible to potential buyers. A rundown property or commercial building next door can detract from curb appeal too. 
Get creative with some landscaping, or a fence or berm to hide the eyesore from view. Be sure to check with the utility company about their rules first, and make sure their workers can gain access to mechanical boxes, power lines, and your AC unit when necessary. Choose plants without thorns and that will not become overgrown.
Keep Seasonal Decorating Simple
Home sales happen year-round, which can include selling in winter around the holiday season. This brings up the question of how to add curb appeal for homeowners who want to put up seasonal decorations.
In short, less is more. The goal is to strike a balance between completely lacking holiday spirit and going overboard. Stick with a tasteful wreath on the door and some simple white lights at Christmas time and forgo the huge yard inflatables. And skip the animatronic Halloween witches and goblins and instead opt for some baskets of mums and perhaps a cornstalk or two. It might not sound like much fun, but trust us, it will be better for attracting more potential buyers.
Curb Appeal Helps When Selling a Home
It's common for real estate agents to suggest staging a house to increase its appeal. Think of increasing curb appeal as the same principle, only outside. 
Enhancing the exterior of a home for sale can be as important as fixing up the rooms inside. It's important for attracting potential buyers and even boosting the selling price. And for buyers, seeing neat, pretty landscaping, fresh paint, and attractive lighting means fewer things for them to do once they move in.
When you're ready to put your house on the market, or if you're having trouble finding a buyer, contact the agents at Berkshire Hathaway HomeServices Select Properties. They're experts at how to increase curb appeal that will help sell your home.
Cover image by tab1962 by Canva.com
Share This Post